Purchasing cotton Yoga mats
The beauty of Yoga lies in its simplicity and its innate ability to evoke humility in its followers. The simple act of sitting on the ground symbolizes the attitude of being respectful, grateful and compassionate to mother earth and other fellow beings. A good quality cotton yoga mat is yet another useful investment in this regard as it not only helps in demarcating one's territory on the ground, it also helps in striking those poses without the fear of getting dirty or slipping. By spreading out the yoga mat on the floor you station yourself for the next few minutes to adhere to and obey the tenets of this beautiful and effective form of exercise called Yoga.
Like for everything else that we purchase in our day to day life, there are dos and don'ts that must be kept in mind while purchasing cotton yoga mats. It makes sense to buy a yoga mat keeping in mind usage for longer periods of time than to buy one on impulse without giving much thought. A good yoga mat serves as that faithful companion who will make your yogic journey truly joyful.
The first thing that must be borne in mind is to opt for a thick yoga mat. A 4mm yoga mat is ideal for this purpose as it provides the right cushion and comfort. Also, anything thinner will be relatively flimsier. A thick base is ideal for all sitting postures as well as for those tough standing asanas, where the ground is of utmost importance.
It is essential to feel the entire stretch of the cotton yoga mat by running your hands across to detect the presence of any unevenness due to knots. Cotton yoga mats have a tendency to develop knots when they are stored for longer periods. These knots can pose a hindrance when you rest your body against it.
It makes sense to go for an Extra Long Yoga Mat instead of smaller cheap yoga mats as while doing asanas that require a wider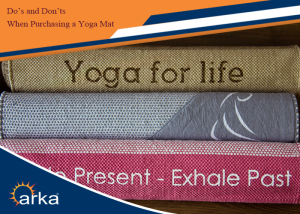 spread the former will serve the purpose much better. So, when you lie down in Shavasana with your feet and hands spread out wide on the floor, an extra-long yoga mat will ensure that your hands and feet do not touch the floor. Or while performing Utthita
Trikonasana, the widespread formation of the feet will be able to get a good grip. The extra-long yoga mat is most useful when we do yoga outdoors as we do not want to soil our hands and feet that may stick out of an otherwise smaller sized mat. The perfect size to go for would be 72 inches by 24 inches which would suit most individuals comfortably.
As the world grows more conscious about the environment, buying an eco-friendly yoga mat is a step in this direction. As it well known that plastic is not biodegradable and harmful to an environment so its usage must be discouraged at all levels. It is known to have carcinogenic properties and cannot be recycled. An eco-friendly yoga mat comes with great benefits like allowing the skin to breathe as against plastic or synthetic alternative. It is free of phthalates and gives a natural feel and texture. An organic cotton yoga mat is as natural as it gets and it will help you relax in the truest sense of the term as the skin-friendly fabric is designed for maximum comfort. The soft lightweight material makes it easy to fold and portable which can be carried in any type of a bag.
An organic yoga mat will absorb more sweat when compared with a PVC or rubber one which can become sticky and dirty. The organic yoga mat can be easily washed as many times as you want and it's ready for use again. There is nothing better than the feel of a fresh, clean and germ-free yoga mat next to one's skin. Not to mention it is the most preferred material amongst those who are health and environment conscious.
The cotton yoga mat also helps in establishing a good hold when one needs support. Its special Anti-slip treatment provides excellent traction and great grip. Especially while doing the challenging Veerbhadrasana or warrior pose which requires one to stretch out one' s legs to maximum.
Nothing can be better when functionality is accompanied by aesthetics. So, you are rest assured on buying
a printed yoga mat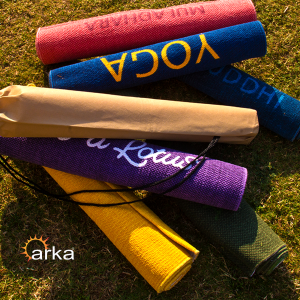 you will get the benefit of both. Available in a variety of colors these printed yoga mats look refreshing and beautiful. Every time you lay them open, they will energize you to focus better with positivity. As you lay your eyes on the pleasing prints of yogic designs you will feel the urge to practice this beautiful form of exercise with a positive frame of mind.
Online shopping is a great place to find the latest in the industry so buy the best yoga mat online at the best price in keeping with the latest trends. When you order the exercise mat online from a reputed website you can be assured of good quality at a fair price. You also have the feasibility to compare the detailed specifications across a wide range of products at your fingertips from the comfort of your home.
When it comes to price, it is wise to shell out once on a good quality mat than spending time and again on cheaper quality ones. Cheaper quality mats may seem attractive at first because of their price but analyze deeply and you will realize that they are not worthy enough in the long run. Given the daily wear and tear these mats will give in quickly and in no time, you will have to purchase a new one. Good quality cotton yoga mats are durable and are able to withstand the daily grind without any fuss and last a lifetime.
It is suggested to buy yoga mat after careful consideration on all the factors discussed so far so that you are not let down and enjoy your yoga session each day to the fullest